It's almost-Saturday, and that means I have a new old free game for you to check out! This week, I'm talking about
Transport Tycoon Deluxe
.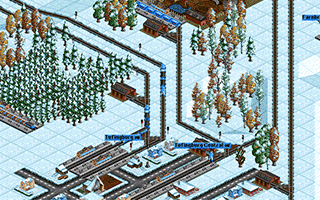 Courtesy abandonia.com
Transport Tycoon Deluxe
is a strategy game of cutthroat transport business domination. You have a variety of tools at your disposal: trains, planes, automobiles, and even ships. You provide the infrastructure to link various industries like a forest to a sawmill or a farm to a factory. The hijinks ensue when your business starts to face competition, but no worries: you can always enlarge your business empire through hostile takeovers.
Transport Tycoon Deluxe
is a nice blend of simplicity and complexity, and you get to use a mouse! (Quite the upgrade, compared to
Star Control 2
). I'll fire this game up every now and then and just start from scratch because there's something satisfying about monopolizing the local coal mines and power stations. That's where my transport empire always starts: very lucrative, you see.
Transport Tycoon Deluxe
is abandonware, a game so old no one is willing to put forth the effort to charge you for it anymore! That means you can download it free
here
. You can also check out an open source version of the game
here
.
Ever played TTD? Share your strategies for transport tycoonery in the comments!
--Demo Gamer