I'm happy to announce a new weekly feature I'll be offering here at the Demo Gamer: Freebie Flashback Friday! I grew up playing many games on x86 systems, starting at age five. These games are well past their expiration dates when it comes to graphics and what not, but sometimes, I fire them up because they are still fun! Another nice thing about these vintage games is many of them are available for free on the internet.
This week's game is a one that is near and dear to my heart, a game that defined the genre known as Real-Time Strategy (RTS). I have spent many hours playing "Dune II" and other RTS games. Probably too many. But I always remember playing "Dune II" and how I never could beat the game unless I played as the "evil Harkonnen". The nuclear missile fired by their Palace building is particularly effective, you see.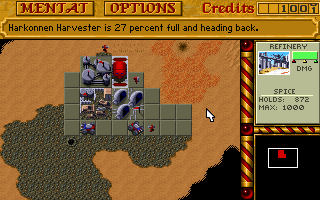 Courtesy Abandonia.com
"Dune II" is definitely dated and a little difficult to play compared to other RTS classics like "Warcraft" or "Total Annihilation", but it is still fun and still a challenge. The last time I played it, I had to run it in DosBox, but it appears that there is now a WinXP version. I will be downloading it tonight, and you can too,
just click here
!
Did you ever play "Dune II"? Have any other vintage games you'd like to share? Sound off in the comments!
--Demo Gamer