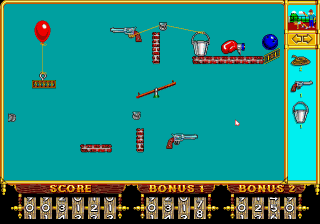 All images courtesy abandonia.com
It's Friday, almost Saturday, and if you're short on funds you've come to the right place. It's time again for a freebie flashback highlighting a classic game that's been abandoned to freedom. This week, Rube Goldberg smiles.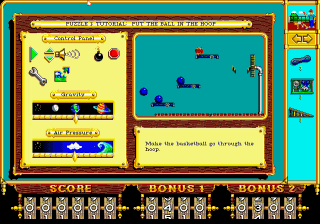 The Incredible Machine
is a game that I can never forget. I remember playing it as a kid and I remember the challenge and wonder of creating elaborate machines to complete simple tasks. Using pulleys, weights, ropes, ramps, and even firearms (among many other tools),
The Incredible Machine
captures most of the whimsical fun of an actual Rube Goldberg machine.
The Incredible Machine
is incredibly entertaining and rewarding and was one of the best puzzle games of its time. While its age shows, the game still has legs. If you like clever, mechanical puzzle games,
The Incredible Machine
is for you. Because it is abandonware, it is free to download, so you can go get it
here
.
Just like this week's game, the comments are free. Tell me what you think of
The Incredible Machine
.
--Demo Gamer